Site Request: media-gallery.unh.edu '1' Gallery Settings: '1'
Title:
UNH Water for Zamkutu
Video
Poster
Preview
Converted Images may contain errors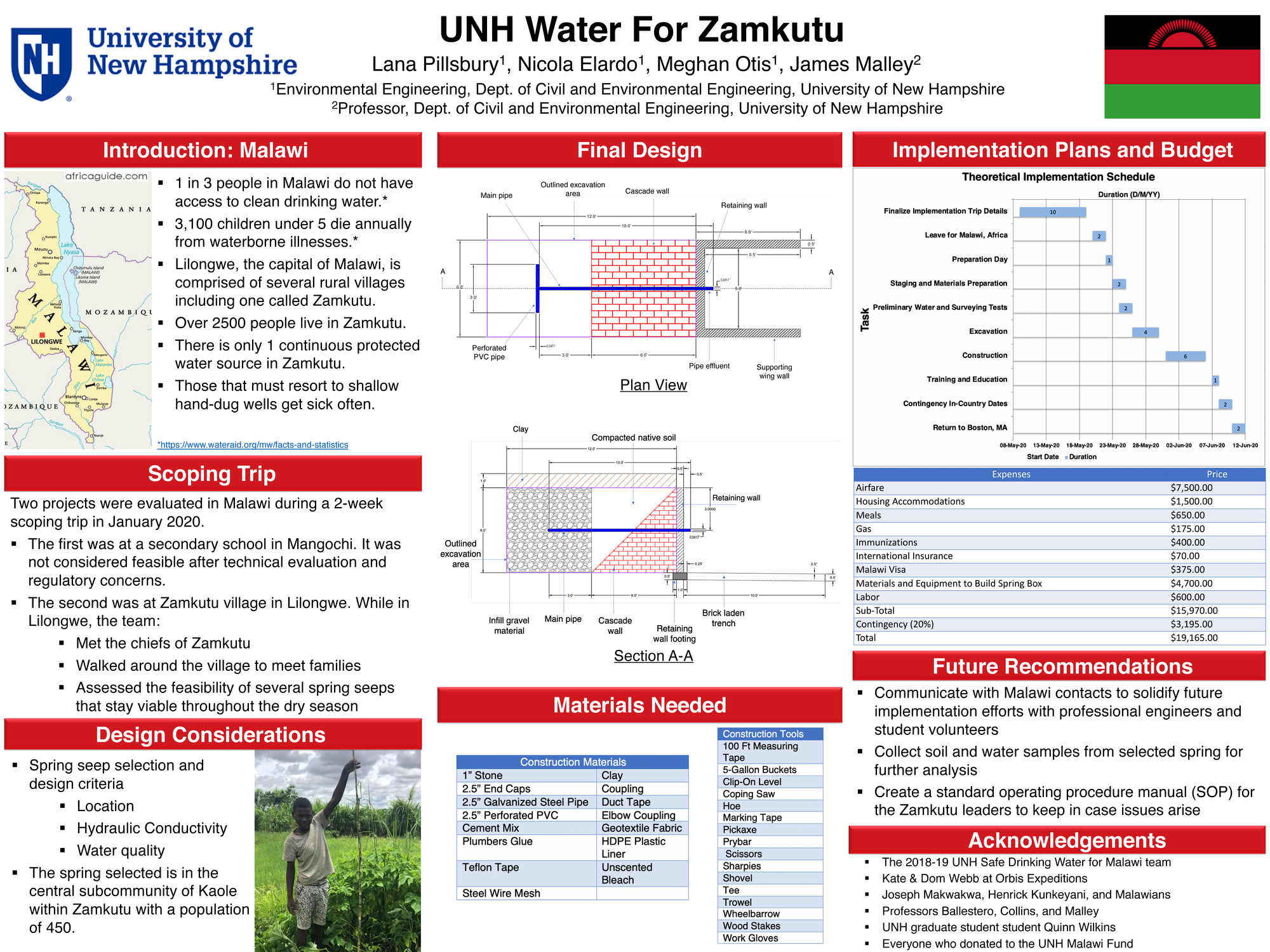 Award: Honorable Mention
Abstract
Malawi is one of the poorest countries in the world by GDP. For this reason, many communities lack access to public health resources such as clean water. The scope of work for the UNH Water for Zamkutu team included finding the right design alternative to bring a source of clean water to the village of Zamkutu by taking cost, simplicity, and sustainability into account. After conducting a site visit and speaking with the villagers and leaders of Zamkutu, it was determined that a spring box would be the most viable option for the village. From there, the team returned to UNH to prepare design and implementation plans. Working with Dr. Ballestero and Quinn Wilkins, a spring box design was created, along with an implementation schedule and budget. Unfortunately, due to the unforeseen COVID-19, implementation has been put on hold until further notice. However, the team has continued moving forward through our design phase as though implementation is still going to happen. Currently, the implementation plans are assumed to be theoretical, but the team hopes to find an alternate team willing to travel and make this design a reality in the future.
Authors
| First Name | Last Name |
| --- | --- |
| Meghan | Otis |
| Lana | Pillsbury |
| Nicola | Elardo |
Leave a comment
Submission Details
Conference URC

Event Interdisciplinary Science and Engineering (ISE)

Department Civil and Environmental Engineering (ISE)

Group Investigation and Assessment

Added April 24, 2020, 5:10 p.m.
Updated April 24, 2020, 5:11 p.m.
See More Department Presentations Here